Our firm strives to provide efficient and convenient legal services to all of our clients. This promise is especially important for our bankruptcy clients. We have designed a system that minimizes your need to miss work and simplifies the process for submitting required information and documents.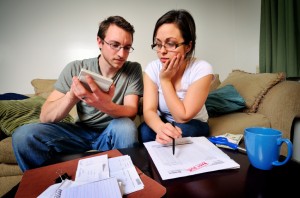 The 5 Simple Steps to Filing an Bankruptcy in Ohio:
Look around this site and learn a little about how bankruptcy works in Ohio.  Make a list of any questions you still have.
Contact us to set up an appointment for a free one-hour consultation with one of our bankruptcy attorneys.  Consultations can be held at one of our offices, by video conference, or sometimes at remote locations closer to your home or place of work.
We will give you our Bankruptcy Workbook to fill out and a list of some documents we will need from you.  Gather those things up and mail or email them to our office. If you want help filling out this paperwork, set up an appointment with one of our bankruptcy assistants and they will be happy to help you with filling out the workbook.
Take an approved Credit Counseling course online (or by phone if you prefer).  We will give you the specifics at our first meeting, but the website addresses of the companies we use are shown below.  This course takes an average of 90 minutes and this is a requirement for anyone filing a chapter 7 or 13 Ohio bankruptcy.
We will have you back in to meet with an attorney to go over your final drafted petition for your signature, making any necessary changes or updates.  We will then take it from there and make all of the necessary legal filings for your case.
Note that most of our web-savvy clients (which probably includes you since you're reading this) only meet with us in person 2 times over the course of getting their case filed – once for the initial consult, and then again to sign the final papers.  In between, we utilize technology – scanning, emails, faxes, etc. – to gather the information we need from you.
            We welcome your emails, and once you have retained us as your attorneys, you can typically expect a response within a couple of hours.  Contact us to set up your free consultation now.
The Bankruptcy Abuse Prevention and Consumer Protection Act of 2005 Requires the following notice:
We are a Debt Relief Agency. We help people file for bankruptcy relief under the Bankruptcy Code. This web site is not an offer to provide bankruptcy assistance services to any assisted person as defined under Section 527(a)(2) of the Bankruptcy Abuse Prevention and Consumer Protection Act of 2005.